The App That Empowers Millions Towards Greater Intimacy with God
What would reading (and enjoying!) the Bible more do for our relationship with God? Brian Russell, Director of YouVersion, the makers of the free Bible App and Bible App for Kids, shares how now over 500 million people have gained access to the life-changing Word of God right on their phones. Contrary to popular belief, Bible reading is not waning. Russell discloses how YouVersion has seen double-digit growth every year as more people take advantage of all the features from plans, accountability, and community to empower greater intimacy with God through His Word. For those that are already using the app, he also reveals some new features to look forward to as well. Let's make the truth found in the Bible our foundation this New Year.
Introduction
We are here to see the influence of your life grow that you would influence your world and the world you live in. We're gonna have a great podcast today. Dave Donaldson has ironed out all his technical issues today. He's actually gonna participate. We're very glad about that. And he's developed such an amazing staff and amazing team that brings incredible influencers into this program. One of the great things we like to do on the Influencers Podcast is have people that are making a difference in the world. And when you work with an organization that touches 500 million people and gets them to read the most important book in the world, you're having a conversation with an influencer. Brian Russell is our guest today, and he's a director of YouVersion the makers of the Bible app and the Bible app for kids under his leadership, YouVersion teams, design, biblically centered experiences, and they encourage and challenge people to seek God every day. Before joining YouVersion brought Brian served as a missionary. So he has a passion for souls and for the mission of Christ, Brian and his wife, Maureen have been married for 20 years and they have four children. And Brian, I have done a study, great men of God have four children. So you are in a great club. Welcome to the podcast, Brian, glad you're with us.
Hey, thanks, Scott. It's great to be here, Scott and Dave, really looking forward to it.
Founding of YouVersion
Some people, you know, there'll always be someone that says, what's YouVersion. Tell us a little bit about what's the story behind the Bible app, what you feel the mission of the Bible app is. And especially as we're beginning a new year for people to engage the word of God.
Yes. So the idea for YouVersion actually birthed out of some pondering that our founder was going through or experiencing in 2006, wondering if there was something that we could build that would actually help him engage better with the Bible and he and others on our staff. Even though they were pastors and on a pastoral staff were recognizing that they weren't engaging in scripture as much as they would like. And so we launched a website in 2007 and not a lot happened, actually. So YouVersion.com launched and neither from the outside people visiting it and using it nor even in our own lives. Did we really see a whole lot happening and you know, here in our organization, we're not afraid to try things and then shut them down out if they're not working. And we were actually considering doing that actually leaving the project.
One of the First Apps – Ever
But before we did that we tried optimizing the site for mobile devices. So in that time it was a lot of blackberries and some other web connected devices and something pretty cool happened when we did that. Our staff started engaging in scripture more and traffic to the site started increasing now that it was even more accessible to people. And the site was usable on devices that we were starting to carry around with us all the time. And then it was right around this time that Steve jobs announced that there would be this thing called the app store. And we didn't know exactly what that meant. And all we knew was that apple was considering letting third party developers, con contribute apps that would be available on the iPhone. And so we built one and we were aren't sure if it would pass review and be accepted into the store, but sure enough, the day that the app store opened the Bible app was one of the first 200 apps available.
And those of us on iPhones found ourselves now engaging in scripture even more. And we did that kind of with the idea of, you know, if 75,000 to a hundred thousand people download this app in the first year, then this is probably a project worth, continuing to invest in. Well, in the very first weekend, we saw 83,000 people install the app. And, and now you fast forward to two a day, we've just celebrated 500 million unique devices. Wow. That incredible installed the app. Yeah. And to this day, we continue to build things largely for ourselves. Things that we think will help us grow closer to God and create those daily rhythms of connection with him. And so you, you asked about our mission. Our mission is specifically to encourage and challenge people, to seek intimacy with God every day. And we're about doing that for ourselves, but we also hope that in the process, we're doing that in ways that help other people. And that's a hundred percent what we're about what we're focused on and why we do what we do.
So good. You know, when you put on the full armor of God, as it says in Ephesians the first one is to SHD your feet with peace and readiness for the gospel. I love that story that God gives you this vision. And then Steve jobs announces that you'd be able to build and develop apps, you know, for their sites. And then eventually all their products think about that. You know,
Incredible. It's pretty amazing. And we've, we've sometimes said that Steve jobs has been well, what has been used of God as one of the biggest distributors of the Bible in history, God can do that.
Stats: Bible Reading on the Incline
Yeah, love it. Now, you know, surveys and media reporting would lead us to think that Bible literacy is like falling off, you know, the face of the earth. But you know, the truth, it's actually the opposite actually, during COVID where we've seen an increase in people reading the Bible Brian share with us some of the data, because I'm here reading some of these statistics in. Unbelievable.
Yeah. Just as you said, we have actually seen the opposite of down trends in scripture engagement. Over the years, year after year, every single year that we have been in existence, we've seen a steady incline and continual incline in people engaging with scripture. And as you mentioned, 2020 was a particularly large, large year of Bible engagement increase. So in just about every area that we measure and I'm talking things like Bible plan completions searches in the app, Bible chapters read or listened to bookmarks or highlights of versus video views versus shared across the board. We saw about 20 to 30% year over year growth in 2020 in all of those areas and in some areas a lot higher than that. And what's been really neat to see this year is that while a number of digital platforms are, have kind of gone from their peak last year during the height of the pandemic have actually decreased this year.
We're not seeing that with YouVersion. So those new levels of engagement that we saw rise to in 2020, throughout 2021, we saw those levels maintained and even grow above the levels that we had reached in 2020. And I'll just give you a few examples, specific examples this year alone, or the, the complete year of 2021, we saw more than 56 billion chapters of the Bible read. We, we saw billion chapters of the Bible listened to audio Bibles listened to 555 million Bible verses were shared outside of the app to text messaging apps or through social media searches in the Bible happened more than 329 million times. 1.4 billion days of Bible plans were completed. And then people watched 500 million videos through YouVersion. So our, our campaign theme, when we passed 500 million installs, when we hit that milestone, we, we had a campaign theme that said the Bible is alive. That was what we really wanted the messaging to be around that milestone because we feel that that's the real story, these stats that I just shared and 500 million cumulative installs, those are simply evidence of the fact that the Bible is alive and well it's alive and well in 2022. And it's alive in the sense that it's still actively transforming people's lives. And it's in many different languages. What 1700 plus languages.
Every Tribe and Nation
Or that's right. Yeah. That's a passion of ours is, is to provide the opportunity for people of every single language group to be able to engage in scripture in their heart language or the language that's most dear to them. So it's, we celebrate that there are 700 or 1,750 plus languages right now, but we also see that number and think, man, we have a lot of work to do. There's a lot of work to do on the Bible translation side of things, but then also us getting brand new Bible translations into YouVersion. So that someday, hopefully we're able to celebrate 6,000 or 7,000 languages in YouVersion. Did you have a team
Of people that works at Bible translation? How does that come to you?
So we ourselves, our team does not work specifically in Bible translation. We do a lot with translation when it comes to the app interface to Bible plan content, to other things that we offer in the app or communication that we do with our U version community. So we offer a complete experience if you will, around the app interface and email communication and content in about 70 languages. And we do have translation volunteers, literally thousands of volunteers around the, that donate their time to help make that possible. When it comes to Bible translation, we leave that to the Bible experts, the scholars and, and those who are specifically skilled in translated translating scripture. And, and yet we did feel that we wanted to be a part of helping in that area of things. And so five years ago, we started raising support and awareness to the Bible translation cause. And one of the things that we celebrate over these last five years, in addition to the, the engagement that we see happening in YouVersion and all of that is that YouVersion users, the community of YouVersion has given four and a half million that has gone directly to these Bible translation efforts. And we partner with many great organizations around the world Bible. So societies Witcliff USA seed company S I many groups that are focused specifically on translation of scripture biblical is another one.
Your desire, all of these languages is for your mission. You said, was to create intimacy with God. How does this ancient book create relevancy in today's world and then across so many cultures?
Yeah. You know, I'm reminded of a lady that I had the pleasure of meeting in the country of Gabo. This, this would've been, I think, four years ago. So this, this is someone who speaks French and she's had access to scripture in French for years. But I was actually in Gabo for the dedication of the first chapters of the Bible into the Obama language. So Obama was her first language, her mother tongue, her heart language. And she made a statement to me that until today, God has felt like the God of other people, but hearing God's word in Obama. Wow. We recognize that God is our God too. And so that's, that's one thing related to language that really impacted me and helped me see how getting it into various languages of the world helps it become alive in people's hearts.
And then just another thing that we observed and I'll kind of go back to 2020. And when the pandemic really was sweeping across the globe and there, there seemed to be kind of global shutdowns and, and the whole world was sort of in turmoil. We saw some specific areas of growth of usage in our app. One of those was the area of search. So almost overnight search in our app increased 200%. And if you look at 2020, compared to 2019, people in our app were searching for things 200% more times than they were the year previous. And it seemed like more people than ever were going to the app. They were going to the Bible looking for answers to specific questions or concern, and answers to the problems that they were facing or the fears that they were facing. And we did a look at the trends throughout 2020, and it was very moving to see those trends shift from things like pestilence, fear, plague, anxiety, worry in early March and in into April, and to see those shift to things like peace healing Pope as the pandemic stretched on.
And so to answer your question, I believe that people in tumultuous times, like we've been in, in many different ways over the last couple of years, I think that people are going to the Bible looking for help and looking for answers. And we rejoice when they're able to find those.
Yeah. You have a lot of different features with the Bible app and U versions best loved features, most used features. What do people really like about the U version Bible app?
Features: Current and Up and Coming
Yeah. I'd like to think they like everything about it, but , I'll I'll point out a few features that I do know are particularly enjoyable or a lot by people. So one of those has been in the app almost from the beginning its Bible plans or devotionals. And this has been a very love feature from very early on. But now, instead of just offering a handful of reading schedules to help someone say get through the Bible in one year now, thanks to generous partners all over the globe. We're able to offer more than 20,000 devotionals that are focused on very different themes, ranging from relationships to anxiety or deep dives into specific sections of scripture. And again, this is really resulted in 20 21, 1 0.4 billion days of Bible plans completed. Wow. And it's hard to even wrap my mind around that.
So I did the math and that means that for every calendar day 3.8 million Bible plan days are being completed by people. So that's a kind of an OIE, but goody feature, if you will. A couple of the newer, most love features I would say are, are verse of the day's stories feature and guided prayer. So verse of the day's stories is a feature that it resembles the UX or user experience of say Instagram or Facebook stories, but it's centered on that day's verse. And it includes a short video by a communicator who's unpacking either commentary around that day's verse, or just explaining how that verse has had specific meaning in their life. And it's been amazing to see the feature, not just start it by users, but actually start it and gone all the way through and complete it 160 million times in 2021.
Wow. And then guided prayer is a similar UX, but offers specific prayer journeys each day. And so we've heard from many users who maybe felt like they should be praying more, or they had a desire to pray, but they didn't know how to pray. And they've written to us and let us know that this feature's been really useful and just guiding them in how to get started in prayer. And then at the same time, even for seasoned intercessors, we hear great reports of how they're using this feature as a supplement to their prayer life and being able to focus and center each day on a specific theme and kind of do a journey along with the rest of the U version community. I that's great. So yeah, those are some of our move up.
Do you have anything new that's coming down next few months, new ideas?
Yeah. So we're, we're always thinking about new things and we have lots of plans for new features. I'll share just a few of those. One of them is actually a feature that we've partially launched and we're about halfway through launching it. It's a podcast feature, which might be interesting to you guys. So this is probably pretty self explanatory, but it is bringing podcast into YouVersion and specifically Bible centric, faith content in podcast form. And we've launched that on iOS and it's going to launch soon on Android and we have plans to greatly expand the content that's that's being offered in, in the feature offer it in many different languages right now we've sort of saw launched it with eight or so different podcast series in English. But we want to expand that greatly. And then we have plans to work on the actual user experience around both podcast and video watching in our app.
These are two features podcast is new, but we it's going to be a, a heavily utilized feature. And then videos is our single biggest growth feature over the last two years. The growth that we've seen year over year is incredible and people watching the video content that version offers. So we have plans to greatly in improve the viewing experience for people and even make it easy to find other relevant content as you're watching a video or you're listening to a podcast to easily be able to go to a place in scripture that touches on that, or find Bible plans or other content that touches on that theme that's being talked about.
And then there's that brand new idea, the Grace Day for the Bible reading plan to keep your streak alive when you miss a date
Yes, yes. That is a feature I just heard about roughly 30 minutes ago, but I'm seriously contemplating it.
We would really like you to pray about Christianne who's. Part of our staff has been reading through the Bible nine years in a
It would be a great favor to her to implement grace days. We'll call it the Chrissy feature.
I love it. The now, you know, the word of God does not return void and, but God is using the YouVersion to reach into the void unreached people around the world share with us about what's happening and your strategy moving forward.
Yeah. Something near and dear to my heart. Just from my personal background in doing cross-cultural work and living in many different countries and including some countries where maybe access to the Bible is not so easy or not as easy as in other countries. One of the things that we're passionate about and get excited about seen usage in places of the world like that. And we, we celebrate that God is redeeming technology and using technology that maybe at times is used for harm or has a negative you know, results or connotation. And yet God is able to redeem anything. And he's using technology today to reach places that haven't been as easy to reach in the past, or maybe is able to reach in different ways. And so we're super grateful and honored to be able to partner with what God is already doing in, in those areas.
It Takes a Village
And we, we also love to give credit where credit is due, as far as recognizing that YouVersion is not just a product of our team here. And those of us who are full-time focused on it, but actually represents the work and effort and collaboration of thousands and thousands of people and ministries and organizations around the world. Many, many different partners have contributed Bibles to us. They contribute them to us completely for free, let us distribute them for free. And then, as I mentioned earlier, we have thousands of volunteers who dedicate their time in answering support tickets, praying with people through a new spiritual support feature that we're that we're launching who translate the app interface and emails and new features for us. And some of these volunteers have actually been volunteering for more than 10 years consistently week after week. And it's super humbling and an exciting thing to be a part of.
And, you know, a, YouVersion is entirely free, a commercial free Bible experience that in itself
Is a huge testimony to the world. How are you able to do that? And how can we help? Yeah. You know, it's actually one of our passions and core values is to provide scripture for free for people. And I think one of the reasons, or one of the things that, that stems from actually goes back to our senior pastor Craig Rochelle's story of coming to faith. And he, his story is that he was far from God living on the college campus and someone handed him a free get in new Testament. And it was receiving that Bible and just reading scripture from Matthew all the way, getting to Ephesians to, and the gospel message coming to life in his heart and literally transforming him changing the trajectory of his life. And there's something special for us now as a church to look and see, we've been able to give away 500 million Bibles for free when we track back that the birth of our organization and our church happened through the gift of one new Testament to our senior pastors.
Partnership and Support
So now to answer your question, how do we do what we do? You know, it's really a lot of different people specifically in 2021, it's through 85,000 people that we're able to, what we get to do. And I'll explain that a little bit. First of all, our church Life Church has always viewed this as a digital missions effort and, and has poured millions of dollars into this project from the beginning and continues to contribute part of its budget, just like many churches contribute part of their budget to missions efforts. This is one of the missions efforts that life church contributes to. And then in 2021, there have been 85,000 unique individuals who have contributed financially to the work of YouVersion, even if it's just $1 because they've been personally impacted by YouVersion or they see the desire to see our mission expand it.
And it has been completely surprising and humbling to see this, we actually added the ability to donate to YouVersion in our app because users kept asking us to do so. Before we even offered that opportunity, because our has always been to offer it for free. We've never had any sort of monetization goals or efforts with it, but yet we were asked so much that we created the feature to be able to give and to see so many people respond is incredibly moving and it not only is helpful practically for being able to do what we get to do and expand what we're doing. We also truly believe that generosity is one of those pathways to intimacy with God. It's, it's one of those faith muscles that you can flex that, that actually helps you grow in your intimacy with him. And so to see, 85,000 people do that with YouVersion last year is super, super exciting.
You know, if God can get it through you, he gives it to you. And, and I've had a front row seat to the generosity of your church and your pastor through convoy of hope with our relief and disaster relief around the world, and so grateful for it. And I think it's one of the reasons why God continues to multiply your reach.
Yeah, thanks for that. And thanks for the work of con boy of hope and city serve, and just the ways that people in their greatest need are able to be blessed and their needs met through those ministries is amazing.
So, so Brian, how does the Bible change your life? How does it increase the intimacy that you have with God?
The Bible is Alive
Yeah. You know, I go back to our theme for our 500 million milestone that the Bible is alive. And we, we landed on that as a theme because we had two sort of concepts in mind with that one was to try to speak against a common yet. I think wrong narrative that the Bible's declining millennials, gen Zers. Aren't interested in the Bible because we simply don't believe that that's true. We believe that not only is it the most read book ever, it's the most read book on any given day today. And, and in fact, there's more engagement in scripture, in more languages and in more places on planet earth than ever before. And so the Bible is alive in that sense, but then that other side of the coin, which is that the Bible is alive in that it still radically transforms people.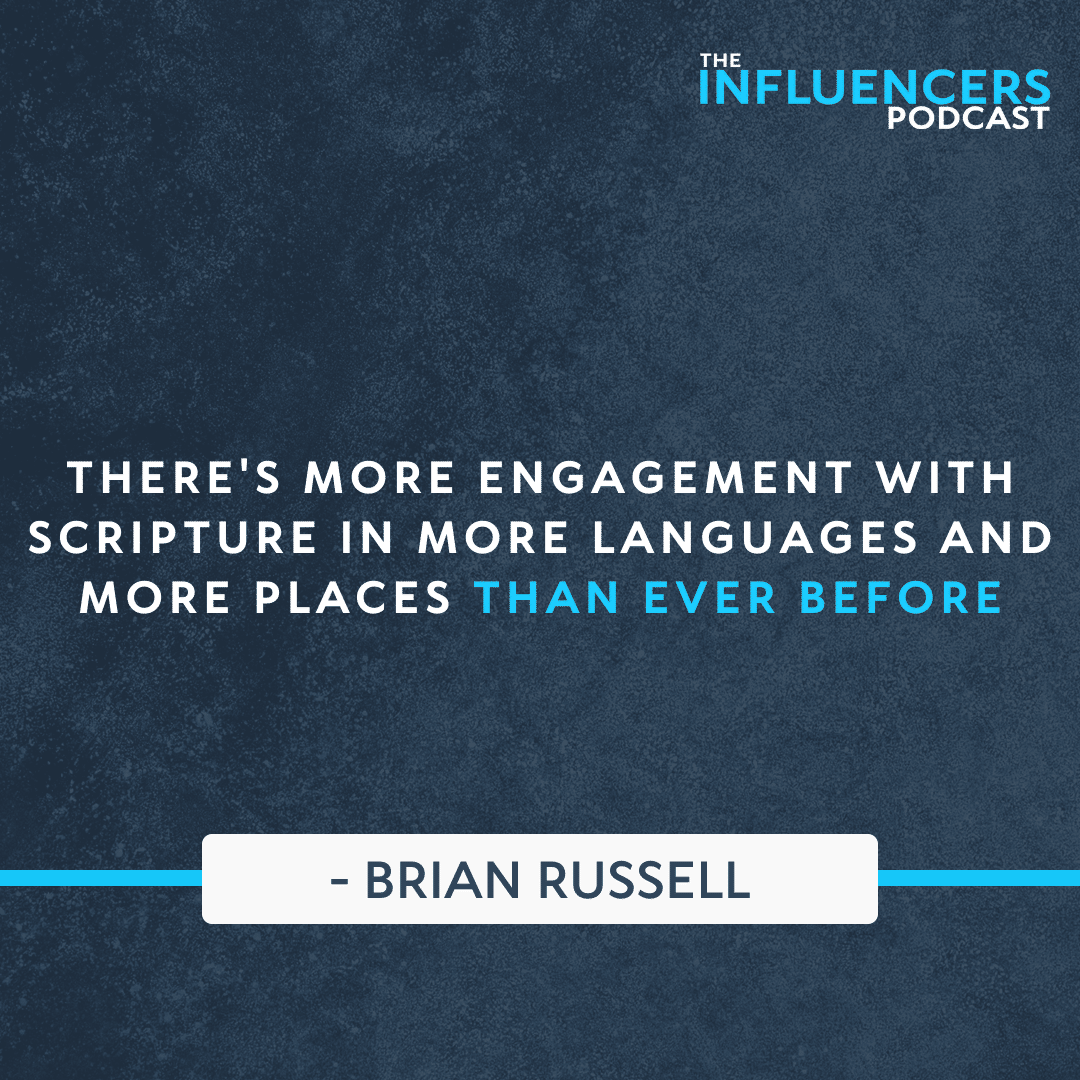 Testimonies
I mentioned our pastor Craig's example of, of how that happened years ago. I I'll share just one example from our YouVersion community. And this is, this is a story that represents, I think, potentially millions of stories. And it was a lady named Sumu from India. She wrote to us right in the middle of the, the worst of the pandemic in 2020. And she said, I suffered from depression. I felt completely lost. And yet in my desperation, I turned to the Bible app for hope. And she wrote these words. She said, I don't say this lightly, but without the app, I don't know if I would be alive today. There were days the depression was so bad that I didn't want to exist anymore, but the app helped me know Jesus, know his word and deepen my faith. That he would be my, I, I think that's just one tiny or one single example of this notion that the Bible is alive and how it transforms people.
I think it meets people in their greatest felt needs. I think it completely changes people who may be were on one trajectory and then reading scripture completely changed them. I'll I'll share just one more example. I said I was gonna share one, but I'll share another one. Cause I can't help myself. A guy named Belaw who now lives in Canada, but he grew up in Bangladesh and he wrote to us and said that some friends of his in college challenged him and encouraged him to read the Bible. And he decided to take them up on that because he had plans to talk them out of their faith basically. But he says that he, he read the entire Bible in Bengali in one month. And by the end of the month, he had dedicated his law life to Christ and that it had radically changed him. And now he's praying for his brothers and his mom to also get saved because he knows that Jesus is the answer. So those are just two examples to answer your question, as best as I know how that the Bible is truly alive.
Getting Connected
I'm sure there are thousands, maybe millions of examples because the seeds that you guys have sewn in, as we begin a, a brand new year, we wanna encourage people to engage the Bible. We wanna encourage people. Maybe they never have done it before to begin a Bible reading plan. So how can we connect our, I seeing Influencers Podcast, family to engage with YouVersion and to begin a Bible reading plan this year.
Yeah, that's great. I think, you know, individuals listening could simply go to YouVersion in the app store if they don't already have the app or search Bible in the app store and download the Bible app and then do a search, either search for Bible in one year or search for a certain theme. That's particularly on your heart right now. And I, and I would say just subscribe to a Bible plan that will guide you every day. And if you, if you start with a short one, then I would just encourage you to immediately start another plan and just create that habit, keep an eye on your streak and make sure you keep it ticking up every day. And I do think, you know, there's nothing magical obviously about January 1st and yet it does serve as a great restart and time to think about new habits. And often we read about those resolutions falling off and you know, it is become a joke as to how, how long did it take you before you gave up on your resolutions? And so leverage the features like Bible plans that we've created to actually help you stick to your habit by having that daily reminder and tracking your progress.
So good. And thank you very much for hanging out with us, keep up the good work. That would be our hearts for you guys. Thank you so much. You blessed me personally, Dave, personally, our team personally, and a lot of our friends. Thanks so much, Brian, thank
You both. I really appreciate you. And the ministry that you guys are doing, God bless you.